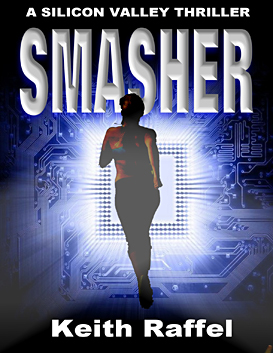 Ebook
You can order the ebook format of Smasher at these online retailers: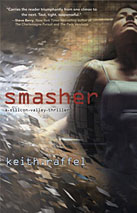 Trade Paperback
You can order the trade paperback format of Smasher at these online retailers:
Smasher
Praise/Reviews
"Keith Raffel is a master storyteller, bringing strong, parallel plot lines and sharp characterization in equal measure to the printed page...."
"Raffel blends computer world wheeling and dealing with the academic world's lust for glory and fame in his compelling second mystery to feature Silicon Valley entrepreneur Ian Michaels (after 2006's
Dot Dead
)…. In a scintillating subplot, Ian's deputy DA wife tries her first major case and runs smack dab into danger as she prepares for the Napa Valley marathon."
"In this cleverly written mystery, Jewish actions are an innate part of Ian's life."
"Keith Raffel, himself a successful Silicon Valley entrepreneur, has made good use of his knowledge and experience to produce an intelligent mystery story that will undoubtedly have a broad appeal."
"Silicon Valley is the scene of this exciting mystery that brings together three seemingly separate plots involving a career Jewish couple, Rowena Goldberg and Ian Michaels."
Buffalo Jewish Review
"A thriller with a Silicon Valley twist."
"Smart and fast paced. No one writes Silicon Valley like Keith Raffel who has written a heart-thumping, thinking-person's thriller."
M.J. Rose, international bestselling author of
The Reincarnationist and The Memorist
"Just the right blend of menace and normality with a wary, battle-scarred hero whose decency rings true. Plenty of sizzle and emotional clout, Raffel is a calculating writer who skillfully carries the reader triumphantly from one climax to the next. Taut, tight, suspenseful, and good. You won't be disappointed."
Steve Berry, New York Times bestselling author of
The Charlemagne Pursuit and The Paris Vendetta
"Keith Raffel is an incredibly engaging writer.
Smasher
swings seamlessly from the cut-throat maneuverings of Silicon Valley to the equally competitive world of particle physics, and yet Raffel never forgets that this is a story about people. A smart, humane, compelling read."
Marcus Sakey, award-winning author of
The Blade Itself, At the City's Edge, and Good People
"Take a taut roller coaster ride in
Smasher
behind Silicon Valley's doors. Hold on and prepare to stay up all night."
Cara Black, bestselling author of
the Aimée Leduc series
"If the proof of the author is in the second novel, Raffel delivers with his new mystery,
Smasher
, set in the convoluted corridors of Silicon Valley power."
Lora Roberts, Palo Alto Weekly
"While the author, the founder of an Internet software company, certainly knows his particle physics, he excels at showing his characters' humanity. Raffel briskly moves
Smasher
from the callousness of Silicon Valley and big business to the equally cutthroat world of academia and pursuit of the Nobel Prize."
Oline H. Cogdill, Mystery Scene Magazine
"An intensely suspenseful and captivating mystery novel."
"Silicon Valley fans will appreciate the use of the location and the tech talk …."
Kirkus
"Will appeal to a broad range of mystery readers."
Booklist
"There's material here for several novels."
The Boston Globe
"Intriguing and exciting."
Mystery News
"Raffel deftly weaves into the story several fascinating subplots…. A story that is both believable and personal."
Steve Steinbock, Strand Magazine