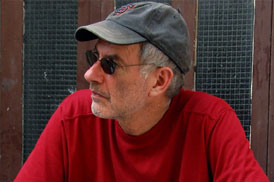 Connect with Keith elsewhere:
Media
An Evening With Jonathan Safran Foer - Moderated by Keith Raffel
Jonathan discusses his new book, Here I Am, with moderation by Keith Raffel, bestselling author of five mystery thrillers. The conversation took place at the Oshman Family JCC's Schultz Cultural Arts Hall, on July 11th, 2017.
---
In Conversation with Joyce Carol Oates
Keith discusses the mysteries of life, Jewish grandmothers, and the source of inspiration with the legendary Joyce Carol Oates on March 13, 2016 at Litquake Palo Alto.
---
Book Trailer for Temple Mount
Alex Kalman has sold his Silicon Valley start-up and is sitting at home in an armchair bored and purposeless. The phone rings. A grandfather he never knew is dying. He rushes to the old man's bedside and finds himself promising to find the Ark of the Covenant, missing for over 2,500 years. In Israel Alex picks up a partner in his quest—archeologist Rivka Golan. Within days they are targeted by a sniper, chased through the streets of Jersualem by a bulldozer, interrogated by Israeli intelligence, and trapped in a tunnel under the world's most sacred site—the Temple Mount.
---
Audio Excerpt from A Fine and Dangerous Season
Here's an MP3 file of Keith reading the 1st two chapters of A Fine and Dangerous Season.
---
Book Trailer for Smasher by Keith Raffel
As Accelenet CEO Ian Michaels battles a ruthless Silicon Valley billionaire for control of his company, his wife, deputy D.A. Rowena Goldberg, is targeted for death by an unknown assassin. Michaels must use his brains and business acumen to navigate a deadly trail of corporate and academic hostility, greed, and revenge as he races to find the assailant.
---
Press:Here
Keith offers his two cents' worth on the showdown between Amazon and Hachette, a Big Five publisher.
---
Press:Here
Reporters from USA Today, NBC, and Investor's Business Daily question Keith on his new ebook original and his checkered past.
---
TEDxSanJoseCA – Jumping to Another World (And Back Again)
---
Palo Alto City Library
On November 13, 2009 Keith spoke at the Palo Alto City Library. In this clip, you'll find out how being a writer is like starting a high tech company! The full-length video of the talk is also available on DVD from the Palo Alto City Library.
---
Google Author Video
---