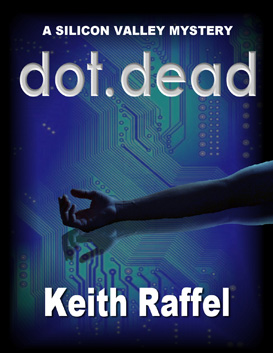 You can order Keith's book,
Dot Dead, at these online retailers:

Dot Dead
Description
Ian Michaels had it all—a high-powered job with one of Silicon Valley's hottest tech firms, a beautiful house, and a bright future. When he discovers a young, beautiful woman stabbed to death in his bed, it takes him a moment to realize that the still-warm corpse is the part-time maid he'd never met face-to-face. Gwendolyn's family and ex-boyfriend insist that she often spoke of Ian, and everyone—including the police—seems to think they were lovers. The evidence points to Ian as a murderer, but Gwendolyn's sister, Rowena, isn't so sure. Together they uncover a trail of secrets, lies, and obsession that provides more questions than answers. Determined not to fall into a trap, Ian's also trying not to fall for Rowena. Because in this dangerous game, someone's getting away with murder—and whoever it is knows Ian very, very well.