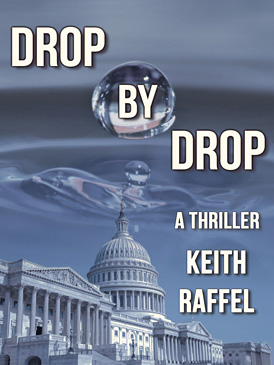 You can order Keith's ebook,
Drop By Drop, at these online retailers:
Drop By Drop
Praise/Reviews
"One of our smartest contemporary thriller authors.... A series of explosive events marks the book's conclusion.... Complex, smartly-navigated plotting."
Joe Hartlaub, Bookreporter.com.
"No one puts the crosshairs on Washington, terrorism, and intrigue better than Keith Raffel. Do yourself a favor and read Drop By Drop!"
Andrew Gross, New York Times best-selling author
and co-author of six number one thrillers with James Patterson.
"Intriguing, intense, and with such an insider's knowledge of the war on terror that I'm surprised it's not classified. Sinister, scary, and heart-stoppingly realistic—this is a gem of a thriller!"
Hank Phillippi Ryan, Anthony, Agatha and Macavity-winning author
"An excellent whodunit.... A powerful book to read…. I thoroughly enjoyed this book and believe that readers of all political persuasions will like it as well. I wouldn't be surprised to see this as an upcoming movie. Five stars out of five."
Lynn Farris, Examiner.com