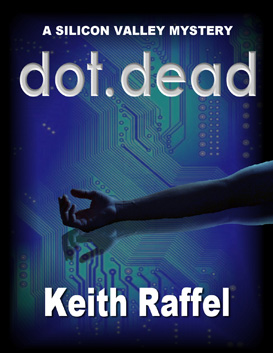 You can order Keith's book,
Dot Dead, at these online retailers:

Dot Dead
Praise/Reviews
"A murder mystery worthy of a Steve Jobs keynote presentation."
"Keith Raffel's debut novel is a great read. Although the book is fast-paced, each of his characters is distinct and well-developed.... Set aside a day to read this book -- once you start it, it's hard to put down."
Crimespree Magazine
Click here
for full review (PDF)
"What more can you ask for?"
Zelda Shluker,
Hadassah Magazine
"
Dot Dead: A Silicon Valley Mystery
may be Keith Raffel's first novel, but he knows a thing or two about grabbing a reader's attention."
Carol Ferguson,
Royse City (Texas) Herald Banner
Click here
for full review
"[W]ithout question the most impressive mystery debut of the year."
"Raffel offers an insider viewpoint on the siliconization of the Valley of Heart's Delight. Those who don't live here can enjoy the mystery and the sense of place. Those who do live here will enjoy a drive past many familiar places on their way to solving the crime."
Lora Roberts,
Palo Alto Weekly

"This book is a pleasure, and it was especially fun to read about Palo Alto from the perspective of a smart person who grew up there, who can still remember it at its best, before its charm began to erode under the unrelenting pressure of the big-money MBAs who followed the scent of high-tech money and who now tailgate each other at high speed down Oregon Expressway, hurrying, hurrying toward the next hoped-for big deal."
John Orr,
San Jose Mercury News
"
Dot Dead
is a fast-paced, twisty ride. I never knew Silicon Valley was such a scary place."
Peter Abrahams, best-selling author of
End of Story, Down the Rabbit Hole, and Oblivion
"...Raffel's debut mystery is an entertaining look at the underbelly of Silicon Valley, one with enough twists and turns and likeable characters to hope for more. I especially appreciated the look at the Bay Area's Jewish community, handled with a light touch for color instead of detracting from the story."
Sarah Weinman,
Confessions of An Idiosyncratic Mind
"I've known Keith for years as a smart technology guy, and now I've discovered him as a convincing, talented writer. Pick up
Dot Dead
if you're looking for a delightful vacation from the rigors of your Silicon Valley life."
Chris Shipley,
Executive Producer, Demo Conferences
and Editor, Demoletter
"Raffel, founder of a software company, knows his way around the high tech industry. He has written a well-plotted mystery with enough action and plot twists to keep most readers going. Add a Jewish mother and a great rabbi to the mix and you can't go wrong."
Library Journal
"Keith Raffel, an entrepreneur who sold his CRM firm, UpShot, to Siebel Systems... in 2003, publishes a surprisingly entertaining whodunit."
Inc. Magazine
"The breakneck pace, intriguing characters and snappy dialogue of the Silicon Valley world that Keith Raffel knows so well hooked me. If you can, get a take-out order of Mandarin Gourmet's broccoli beef and cashew chicken and prepare to stay up all night reading
Dot Dead
."
Cara Black, author of
the best-selling
Murder in Monmartre
"Keith Raffel's expertise in the computer field plus his ability to compose a terrific story combine to make
Dot Dead
a spellbinding novel, with a protagonist you won't want to leave...."
"
Dot Dead
is a fast paced, truly witty mystery set in the maze and madness of Silicon Valley. Ian Michaels is a determined and often befuddled hero who must navigate around a delightfully opinionated Jewish mother and solve a murder while finding love. This is a fun read."
Stuart M. Kaminsky,
2006 Mystery Writers of America Grand Master